When someone close to you has dementia, including Alzheimer's, special occasions and celebrations can become more difficult, both for them, and for you, too. While your mom or dad may struggle to feel comfortable around lots of unfamiliar faces, you might also wonder how you will manage entertaining guests, or how you can share your own family time with your parent. It's natural that such concerns can cause your stress levels to rise. But with the right levels of support, good communication with your extended family and friends, and properly managed expectations, your holiday season can be as enjoyable as ever.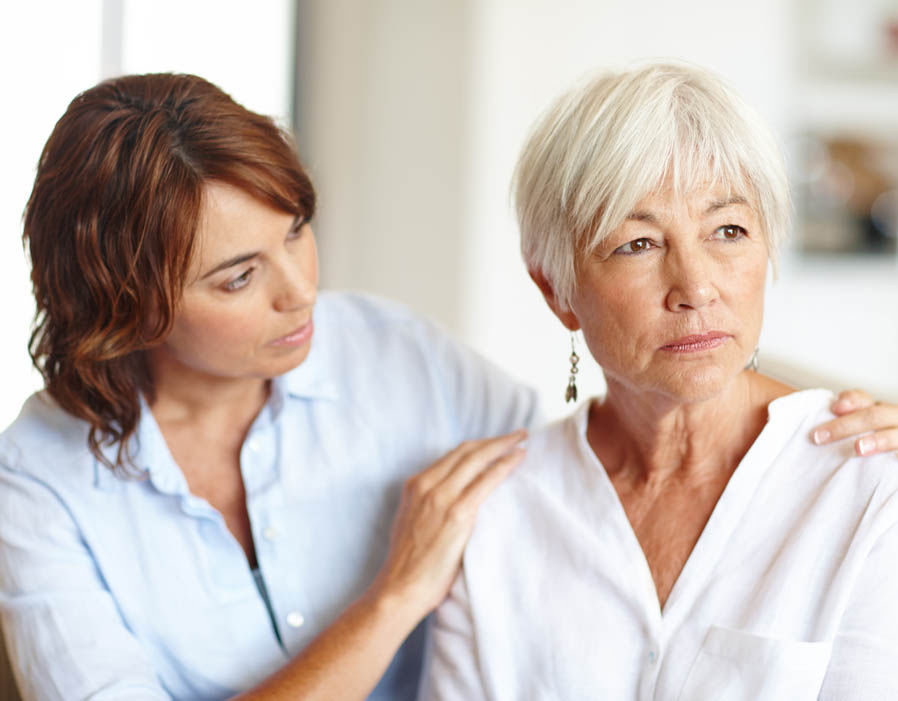 1. Communicate to Your Family and Friends
You will, of course, want to share this special time of year with your mom or dad, and so will other friends and family members. Getting together is a key part of holiday traditions, and spending time with familiar faces in familiar surroundings may be as enjoyable for your loved one as it is for you.
However, this can also be a difficult time for someone with dementia, as they can feel overwhelmed. It may also be difficult for family members who have not seen your mom or dad in some time, as they may struggle to come to terms with the changes they see in your parent's behaviour. Similarly, grandchildren may need to be made aware that their grandparent may behave differently.
In advance of any planned gatherings or family events, be clear with family and friends regarding what they can do to help, how best to communicate with your parent, or what they should expect to experience with your mom or dad. Don't be afraid to tell them directly what you will both need, in order for visits and holiday celebrations to go smoothly.
2. Don't Expect Too Much
If you are the main family caregiver for your loved one with Alzheimer's, or will be managing their time over the holidays, think carefully about how much you're able to do for any group celebrations, or how many visitors you will be able to manage.
Be realistic about what the extra workload. If having a busy schedule is unavoidable, see where you can get help. Share the tasks with family and friends, or get some help from a Home Care company.
Extra resources and support can be invaluable during the stressful holiday season. After all, this could be one of the few times of the year when you will get a chance to switch off, relax, and enjoy the celebrations, but only if others are able to help you care for your loved one, too.
3. Relive Past Traditions
Even if your loved one has difficulty remembering things on a daily basis, being involved in some familiar, seasonal traditions, will be a great way for them to feel connected to the celebrations and get some understanding of what is happening around them.
A parent with Alzheimer's may not be able to communicate well, but involving them in family activities can help your mom or dad feel more at home.
4. Give the Gift of Time
Often, as a family caregiver, you will be so busy caring for a loved one, combined with taking care of regular day to day activities, that you don't have time to enjoy your mom or dad's company. Take a break from the usual routine to enjoy seasonal activities that you can do together.
For example, look through some family photo albums. While your mom or dad may not be able to recall all of the names and faces, this activity can be a comforting and relaxing way to spend time together.
If you need extra help in the home, or simply want to spend more time with your elderly parent as their adult child, rather than their caregiver, consider how Home Care can relieve you of some of the more difficult tasks. Now, you will be able to enjoy those precious moments with your loved one, without the burden of being the family caregiver, too.
5. Create a Quiet Space
Make sure there is somewhere your loved one can go and get some downtime if it is likely that there will be a lot of people coming to the house. You might even like to retreat somewhere together if you need to assist them with eating, or other tasks that may be better done in privacy.
6. Look for Assistance
Medical centers, support groups and other resources you may rely on to help you cope could be short-staffed, closed, or difficult to reach at this time of year. If you plan to be away from your parent for an extended period of time over the holiday season, or think you will need assistance to cope, organize professional Home Care help over the holidays.
A Home Care company with expertise in Alzheimer's care can assist your family by offering a care plan tailored to the needs of your family. Whether you are planning an extended holiday vacation, or simply need some respite, now is a good time to introduce a Home Care aide to your mom or dad.
Preparing now will help ensure that mom or dad will have time to adjust to any new people in their home - before the holidays begin. You will also have peace of mind knowing that your parent is being provided with compassionate and expert care while you are busy with the added stress of the holiday season.
7. Enjoy Your Own Holiday Season
The holiday season can be an emotional time, especially if you see that your mom or dad is no longer the person they used to be. Reward yourself by enjoying some relaxing time to yourself; remember that you deserve a break, so you can celebrate the holiday season.
Find out how Ezra Home Care can provide the compassionate and expert care your loved one needs by arranging a consultation with one of our Care Managers: