Ezra Home Care would like to recognize our caregiver of the month, Celecia Rocher.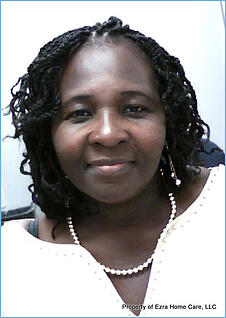 An employee at Ezra Home Care since October 2009, Celecia has worked mostly as a live-in caregiver and has had outstanding reviews from her clients, centered around her easygoing personality and great communication skills. She is committed to offering the best care to her clients.
In 1984, Celecia emigrated to U.S. from Haiti, where she had spent much of her time caring for an ailing family member. There, Celecia realized that she enjoyed caring for people and helping them overcome their illnesses; so when she arrived in the U.S., she didn't hesitate when choosing her career path. Celecia earned certification as a home health aide as well as a certified nursing assistant, and immediately began working as a caregiver.
We aren't surprised that our clients love Celecia. After all, she treats them as if they were her own family--lifting their spirits by singing their favorite songs, cooking their favorite meals, and always making sure they are comfortable. She's often heard saying, "Sometimes a smile is the best medicine."
Celecia has a big family, including five children and twelve grandchildren, and spends much of her spare time with them, cooking and going to the movies. An avid cook, Celecia prefers healthy Haitian and American cuisine.
We are happy to have Celecia as part of the Ezra Home Care team. Learn more about our Caregivers.