Frida Muumba has been working for Ezra Home Care since 2009. Clients love working with her! Her attitude is "there are no difficult clients, there are clients you just don't understand." That approach to her work makes Frida someone that is invaluable in that she can work with literally anyone.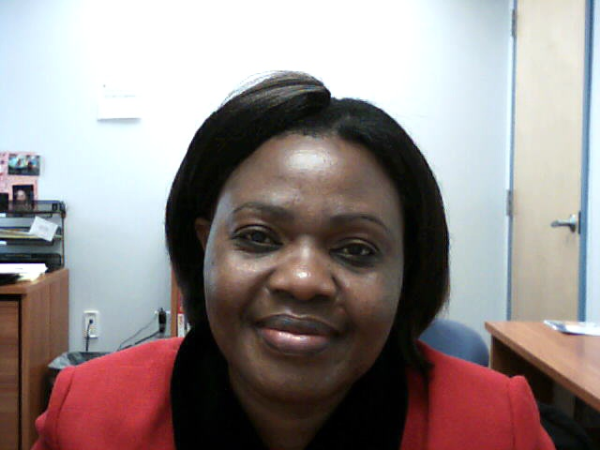 Frida grew up in Uganda and it is there that she began her work in caregiving as a girl. Her grandfather suffered from Parkinson's disease and she often kept him company and helped him with chores and simple tasks at home. When asked what she likes most about her job she said:
"I find caregiving very fulfilling. It is like taking care of a baby. You do hard work, but every new word, a new skill, makes you happy and proud. I feel the same about my clients; even the slightest improvement in their condition makes me happy. I don't want to just help them out, I want them to keep practicing skills they already have, and learning new ones; like dealing with new vendor machine, new devices, etc."
When she is not working, Frida enjoys spending time with her children. She has a daughter and a son, both in high school. Her daughter will graduate this spring and is interested in studying to be an architect when she starts college this fall. Her son has a few more years of high school but dreams of becoming an engineer. As their mother, she is so proud of them and is glad they are serious about their futures. As someone that loves their job, Frida understands the importance of finding a career that you are passionate about. With the school year coming to a close, Frida has been trying to help her children concentrate on studying and has been busy helping them out with their chores.
When she is not helping others, Frida loves to read. She fills her spare time with suspenseful thrillers and romance novels. She says, "If I'm curious about the plot, I can read the entire book in two or three days! I can't wait to find out what will be at the end."
Another one of Frida's passions is cooking. She enjoys cooking healthy European or Mediterranean dishes for her clients, but her favorite is that of her country, of course! She likes cooking for clients: she often asks them about their favorite dishes and tries to recreate them exactly as they like it. Frida believes it is these small things that make her clients very happy.
We are glad to have Frida on our team!