We don't like to think about it, but at some point we will have to say goodbye to someone we love. If your parent, spouse, relative or close friend has been given a terminal diagnosis and is in the last months or weeks of their life, it can be hard to know what to say to make them as comforted as possible.
You may also have some things that you feel are important to say to your loved one for your own emotional health, but are not sure how to address them. Here are some guidelines to follow to make your last conversations meaningful and make the most of your precious time together.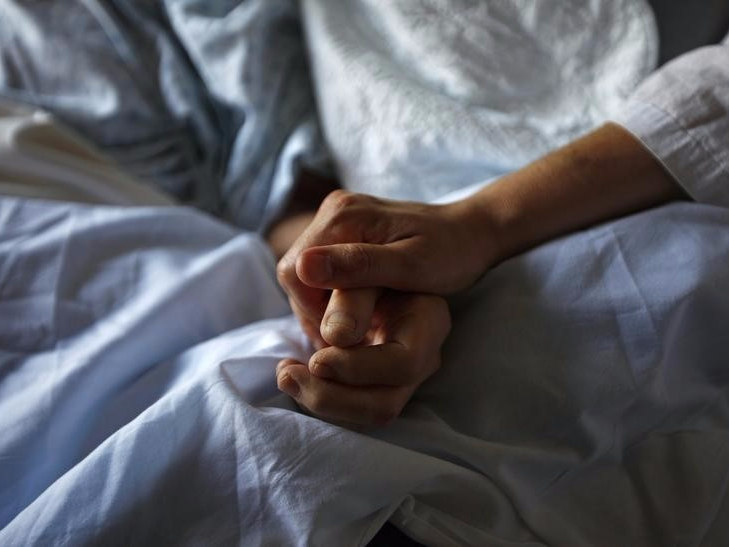 Follow Your Loved One's Lead
Many people who are near death because of cancer, a heart condition, or after complications resulting from another illness such as Parkinson's, are aware of the seriousness of their illness. Many people will want to speak openly about their prognosis, while others may prefer to avoid conversations about death and instead revert to small talk in order to keep the conversation from getting too close to the topic.
Regardless of how you feel about this topic, it's very important to follow your loved one's lead when it comes to addressing the subject of death. Honesty is very important; if they ask a question, it's vital that you answer, honestly. If you don't know the answer, say so.
If they have lots of questions you can't answer, it might be useful to make a list of things your loved one would like to ask their medical team. This is a good way for both of you to feel more in control of the situation. If your loved one chooses not to talk about death, you might feel frustrated, as trivial conversation seems so inappropriate to you. Even so, try to respect their wishes as much as possible. You will still have time to say all the things that are important to you, but you may have to be patient regarding your delivery.
What Not to Say
We all want our friends and family to feel reassured when they are going through difficult times, but avoid giving false reassurances to your loved one who is dying. Equally, repeating cliches, such as "It's God's will" or "Everything happens for a reason" can be hurtful and dismissive of the emotions that your loved one is likely to be feeling.
If you're worried about not being able to say the right thing, just listen! Sometimes a person will not talk directly about death, but will talk at length about some part of their life that they are very proud of. They might like to reminisce about happy times, and simply letting them talk without offering advice, judgment or commentary can often be the best way to let someone who is at the end of their life feel free to speak about what's really important to them.
Say What Really Matters
If you know you have limited time left with someone you love, and every minute is precious, use the opportunity to say the things you really need, before it's too late. Don't hesitate, or wait, to say "I love you" if it is what you feel. Even if you are not in the habit of saying these words out loud to the person, saying it now will be a pleasant surprise, and will ensure you have no regrets, later. Say it as many times as you need; don't hold back - you can't say it too much when someone you care about is close to death.
There may be other important things you would like to say to your loved one. For example, you may feel the need to say "I'm sorry" or to discuss unresolved issues or things that were hurtful. If this is the case, try to bring up the topic in a non-confrontational way and, if it is appropriate, ask for forgiveness.
Saying "thank you" to a dying person for the legacy that they leave behind is a wonderful way to let them know that their life had great meaning. Talk to them about their achievements, their impact on the world and people around them, and let them know that their life has been worthwhile and important. Acknowledging all they have done allows your loved one to feel that their time has been meaningful and may go some way to alleviating common fears of a life not fully lived.
A Dignified Goodbye
If you are the main caregiver to a seriously ill loved one, you have probably spent a lot of time with them in their final weeks, and may have had to perform tasks you, or your loved one, were uncomfortable with. Dignity is important, especially at this time, so let them know that ultimately, none of these things matter, and that you will remember them for the person you love and value.
Be sure that, each time you say goodbye, you embrace them and let them know you will miss them. You may not know when it will be the last time. If you know you are not likely to see them again, it is okay to share that thought with them and take a moment to have a meaningful goodbye. Don't be afraid to show your loved one that you are emotional - they will be comforted to know that they will be missed - but do be cautious not to overwhelm them with your own grief.
For most people, affording their loved ones a dignified goodbye is the most precious final gift we can give them.
When faced with the imminent death of a loved one, the practicalities of everyday life understandably lose importance, but may still need to be done. If that person is still living at home, it may be advisable to seek the help of a Home Care company who can carry out day to day tasks so you can spend as much time as possible simply talking to, and caring for, your loved one. A Home Care provider can also offer respite care so that you can have some time to yourself if you feel overwhelmed by the situation.
To find out how Ezra Home Care can help during this difficult time, contact our compassionate team.