Pet therapy is widely recognized as a beneficial treatment for seniors with mental, physical and emotional health concerns. According to UCLA research, even a few hours at a time with an animal can help stave off depression and loneliness, and even lower blood pressure and reduce cholesterol. We discuss what Pet Therapy involves and how it can help seniors stay healthier for longer.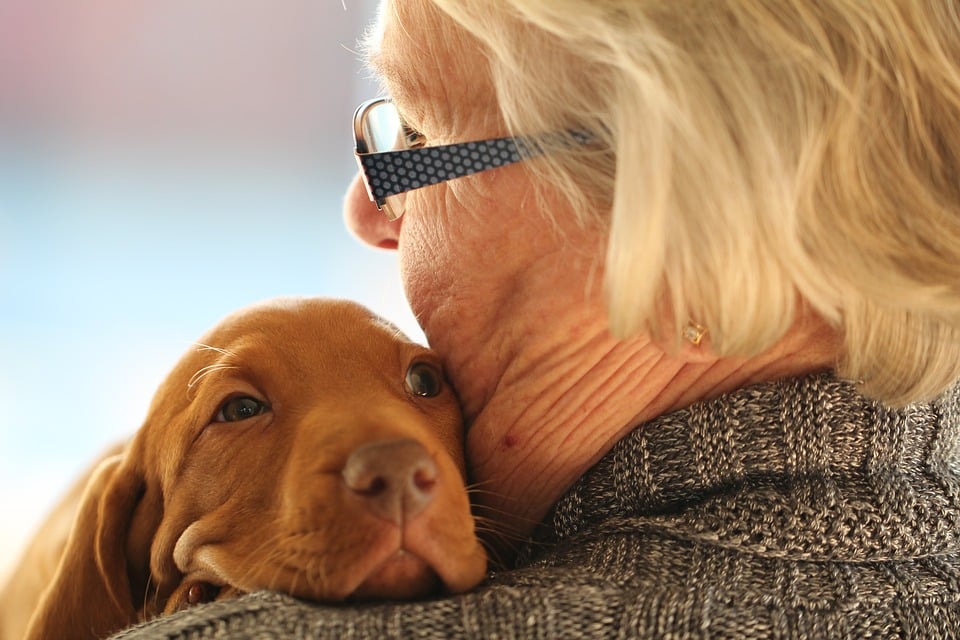 What is Pet Therapy?
For more than a century and a half, the benefits of the companionship and care an animal can bring to the sick and the elderly has been acknowledged and used to great effect. As long ago as the 1800s, Florence Nightingale spoke of the positive effects of pet therapy, with the founder of modern nursing stating in 1859 that a small animal "is often an excellent companion for the sick, for long chronic cases especially".
In more recent times, pet therapy has proven to be effective in elder care, by:
Encouraging physical activity

Improving socialization

Decreasing

loneliness
Pet therapy is also known to improve certain health conditions in seniors, such as high cholesterol, with dog owners statistically at a lower risk of heart attack, according to Harvard Health.
For seniors in particular, interacting with animals as part of therapy, and life, is especially beneficial. A study detailed in The Complementary Therapies in Clinical Practice Journal, 2009, outlined that contact with pets was shown to lead to increased energy levels, reduced pain and anxiety, improved respiratory rates, and better mental health.
How Does Pet Therapy Work?
Why does access to a pet have such a positive influence on seniors and their health?
Caring for an animal promotes and encourages

physical activity

. For that reason, having a pet is an excellent therapy tool for those in rehabilitation following

surgery

, an accident or

stroke

.

For seniors, a pet acts as a greater motivator for encouraging daily walks and movement, which in turn has many health benefits. As energy levels dwindle and socialization becomes less frequent, many seniors lack the inspiration or motivation to continue exercising as much as they should. Daily exercise boosts mood and is an essential part of managing many age-related illnesses, from

diabetes

to high cholesterol.

Pet ownership and/or access to a pet for hours at a time also has a positive impact on renewing interest in life, increasing feel-good hormones and reducing loneliness. The companionship a pet can bring to an older person is extremely valuable, especially if they find themselves suddenly living alone, or if they live too far away from family members to have regular visitors. Pet ownership and contact also inspires social interaction. Dog owners, for example, often stop to interact with other dog owners on their regular walking route, while animals that visit care facilities will encourage the residents and workers to interact on a deeper level.

Pet therapy is especially useful in the treatment of seniors with

dementia, including Alzheimer's

. Levels of agitation have been noted to decrease when dementia and Alzheimer's patients spend time with animals.
Pet ownership is dependent on the senior being healthy enough to care for a small animal, and does come with responsibilities that not every older person can manage. However, many elderly people with pets show renewed interest in life and enjoy the feeling of being needed and caring for an animal. With newly inspired feelings of worth and purpose, the uplift in mood, and behavior, can be significant.
Before Bringing a Pet Into Your Family
If you're considering pet therapy for yourself or a loved one, here are some points to consider:
Will the person in question be able to look after a pet, or will additional assistance be required (e.g. dog walkers, someone to remember to feed the pet, etc)?

Adopting an older dog with suitable energy levels and exercise requirements can better suit seniors with mobility issues, as younger dogs or puppies can be extremely taxing and hard work to take care of full-time.

Cats can be easier to care for than dogs, and owners with reduced mobility can still benefit greatly from the positives such a pet can bring. But remember, not all cats are "people" pets, so be sure to find a good match for your loved one.

If the senior in question has extremely restricted mobility, or you feel a small animal in the house could be

a trip hazard

, assisted pet therapy (i.e. having someone come to visit with their own pet, rather than owning a pet) can be a more suitable option. This is also a good option if a senior has memory difficulties, or

cognitive issues

, that might prevent them from properly caring for an animal.
Assisted Pet Therapy from a Home Care Company
Some Home Care companies provide Pet Therapy as part of their service offerings. Visits to nursing home facilities to meet a group of seniors can be arranged, as can one-on-one visits to your loved one's home.
Visitation therapy such as this can provide all the benefits of pet ownership, with less commitment than ownership therapy, and although your mom or dad may get less time to spend with the animal, studies have shown that as little as 15 minutes of interaction with a pet is enough to see real change in a senior's health and wellbeing.
Regular visits from a therapy pet is something an older person can and will look forward to, and can develop into an enjoyable routine for the private caregiver, your loved one, and the pet, too!
For more information on how to arrange pet therapy for yourself or a loved one, please call and speak with one of our dedicated staff: