Are you, or someone you know, considering hiring a caregiver for your loved one, but are overwhelmed trying to figure out which type of caregiver best fits your loved one's needs? Worry no more, we are here to help.
Use these guidelines to help understand the differences between Companions, PCAs, HHAs and CNAs:
Is your loved one socially isolated or feeling lonely? Could your parent benefit from a little extra help around the house? If so, a Homemaker/Companion might be the perfect fit.

A

Personal Care Assistant (PCA)

is great for people with disabilities or seniors who want to hire a non-certified caregiver to help with day-to-day activities, including personal care. PCAs are often members of the family who are compensated through government funded programs like MassHealth, but they do not have the certifications or training required for their more-skilled counter-parts – Home Health Aids (HHAs) or Certified Nursing Assistants (CNAs).


If your loved one is suffering from more complex issues such as cognitive impairments including

Alzheimer's dementia

, or mobility issues that can impact people with

Parkinson's disease

, you probably will need to hire an experienced caregiver who has gone through 75 hours of rigorous classroom and clinical HHA or CNA training and has passed a comprehensive home health exam.
NOTE: Both HHAs and CNAs go through the same training and certification process, however CNAs must also pass a clinical State exam that allows them to also work in hospitals, rehabilitation centers and skilled nursing facilities.
See the at-a-glance "Caregiver Options Made Simple" chart below: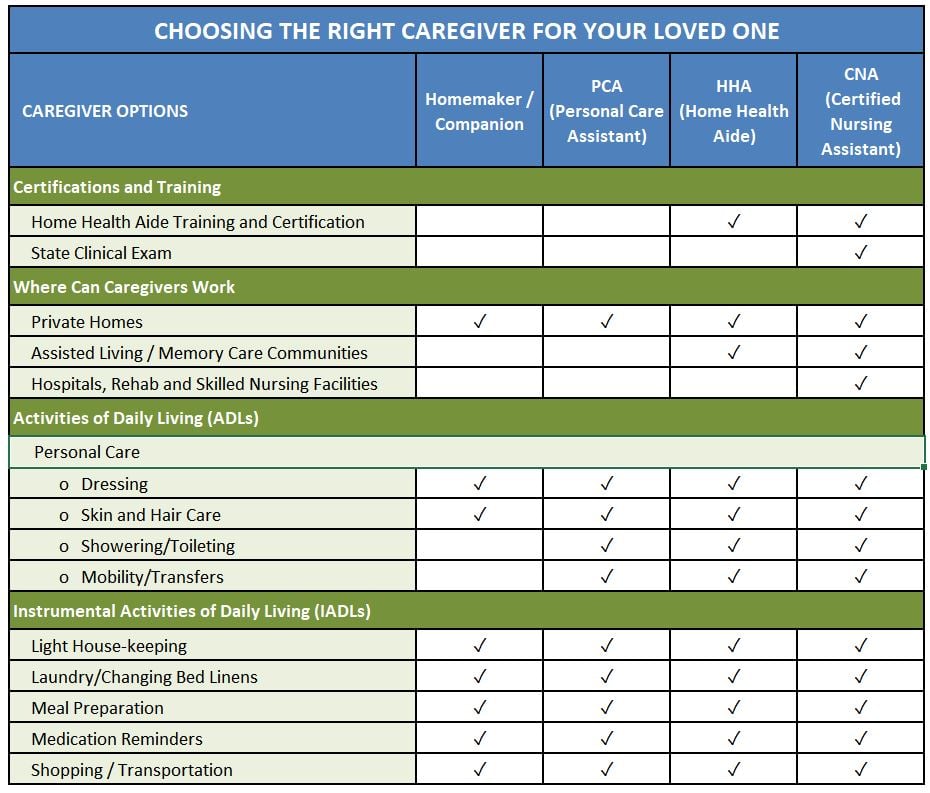 In summary, if your loved one is diagnosed with health issues, including Alzheimer's or Parkinson's dementia - or, has more complex care needs including help with transfers, then hiring a certified caregiver through a home care agency will provide you with the most peace of mind. If there is no personal care needed, and companionship is the most important requirement, then hiring a homemaker should be fine.
At Ezra Home Care our mission is to provide the most exceptional Home Health Care services that your and your family can rely on and trust. We understand that each situation is unique. If you have more questions or are ready to hire a certified caregiver, please contact us at 617-527-9000 or info@ezrahomecare.com. We are always happy to schedule a free needs assessment at your convenience.