As many as one in five of the senior population in the US suffer from at least one mental health issue, according to the National Academies of Medicine. How do you make sure your elderly parent suffering from a mental health disorder stays on track with their medication?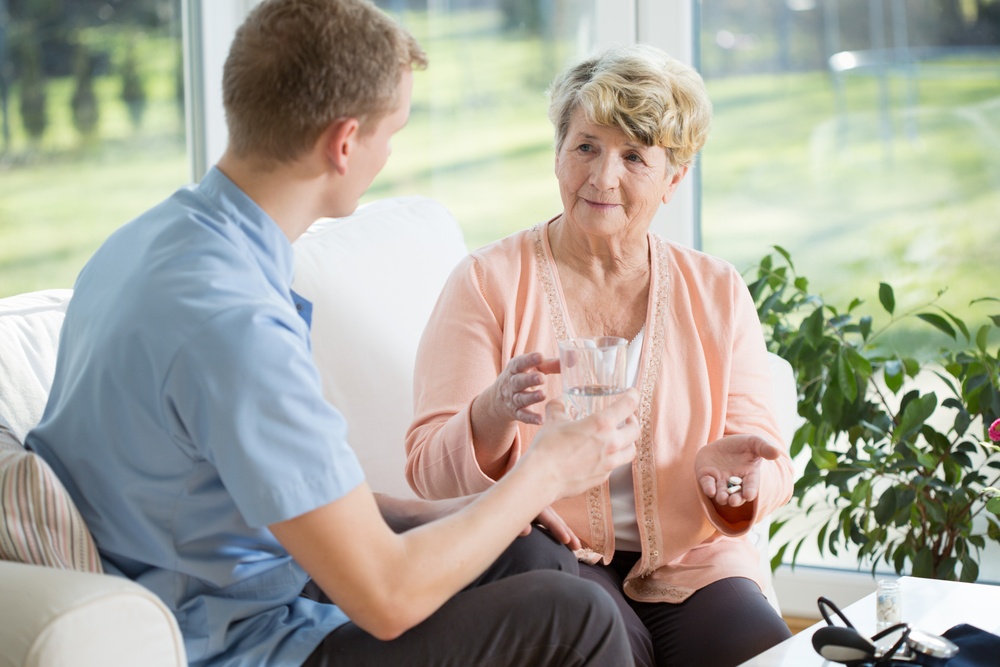 Caring for an elderly relative can be a taxing, sensitive time. If your loved one is also suffering from mental health issues, and failing to follow their medication schedule, it can become even more fraught with difficulties.
Geriatric depression is very common, and can sometimes be brushed off as a normal part of aging. However, this is not the case. It's true that older adults are at a greater risk of depression, in particular those who have chronic health conditions or whose daily functions have become limited after a stroke, for example. But, it is still important to seek help for those in need if you start to recognize symptoms. With the right treatment, your mom or dad's mental well-being can see a great improvement.
Depression is not the only mental health issue that seniors face. Dementia-related problems, substance abuse and bipolar disorders, are also among the many types of mental illness that older people can suffer from.
Recognizing the illness and seeking the appropriate treatment is one big step towards helping an elderly loved one, but once diagnosed, making sure they are taking their medication at scheduled times is the key to the treatment being successful.
Tips for the Medication Regime
If you suspect that your mom or dad isn't taking their medication when they are supposed to, or simply doesn't have the ability follow a regime, it's important to find out why. Do a considered stock check of the medication over the course of a few days to see if the right number of pills have been used, or have a consultation with their doctor to flag what the warning signs would be if the medication was suddenly stopped.
Many elderly people who have memory issues can find it difficult to remember when to take their medication, but there are some tips and tricks that can help keep your relative on track:
Use pill boxes with the days of the week divided into morning, daytime and night compartments, and leave them in the same place

Set up a simple daily alarm for the times of day when medication needs to be taken

Set your own reminder and phone your mom or dad when it is medication time

Use a calendar specifically for medication and have Mom or Dad fill in or mark off the times they took their medication
Sometimes, however, even these measures aren't enough to help someone who is very forgetful or simply doesn't have the mental ability to stick to a regime. Your loved one may not be aware of what day of the week it is, or they could be prone to distraction the moment your reminder phone call is finished. If this is the case, it's important that someone is physically there at the right times to hand them their medication and watch them take it.
A Home Care aide or companion is well-equipped to keep your elderly parent to a medication schedule and are trained to look out for the warning signs if something should be amiss with their client's behavior patterns.
An elderly person who refuses to take their medication, or someone in denial of their own mental health issues, is a more complex problem. Again, try to get to the bottom of the refusal – does Mom find the pills hard to swallow, or is she simply overwhelmed by an increasing roster of medication? There are simple, effective solutions to these problems; you could ask your parent's doctor if the medication is available in a liquid form, or try crushing the pills into food (only under the direction of a doctor, as some tablets are "time-release" and therefore should not be crushed).
Some elderly people, especially if they are grieving the loss of their husband or wife, may refuse to take medication if they see it as prolonging the time until they can see their life partner again. And, people with mental health issues can suffer from mood swings, paranoia, or be in denial - all of which can contribute to forgetting, or refusing, to take medications.
How Home Care Ensures Your Mom Takes her Medication
These situations can be emotionally taxing for any adult child who has taken on the role of caregiver, and if you are struggling to cope, it could be time to seek additional elderly care at home from a Home Care company with a specialized psychiatric program.
As well as keeping scheduled appointments with doctors and therapists, and reminding your loved one to take medication, a Home Care aide is trained in how to work with stubborn or unwilling seniors, and will probably have greater success at getting them to comply than you would.
Remember that you don't have to face caring for an elderly parent with mental health issues alone, and be sure to look after your own mental health too. Seek out support groups, talk with family and friends, and get the help of a Home Care company whose services can make sure that your loved one can follow the medication routine they need to enjoy the best quality of life.
Find out how we can help with your parent's medication regime and provide the Home Care your parent needs by contacting our friendly and experienced caregiver team.