Choosing the right Home Care company is a big decision - especially if your parent has Parkinson's Disease. Here's how you can be sure you're making the best choices for your loved one so that they can continue to live safely - at home!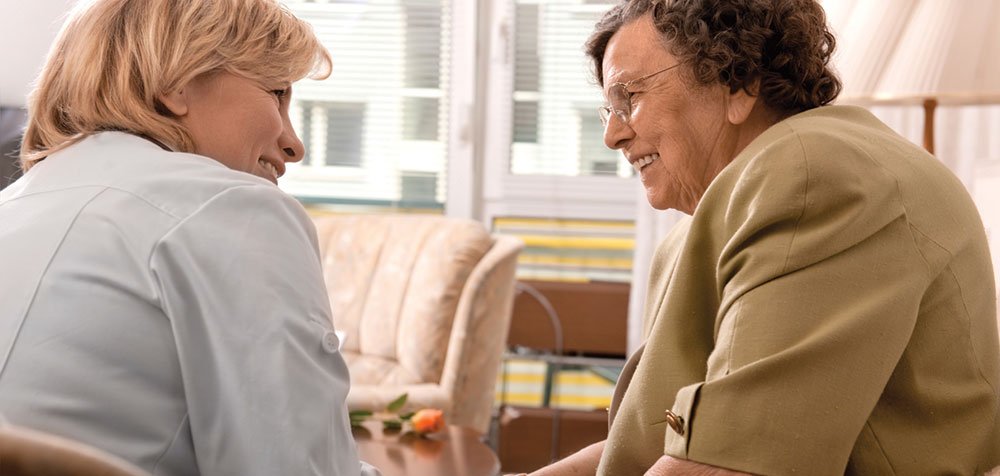 When families make the decision to get help caring for a loved one who needs assistance to cope at home, there are lots of things to consider: How much care does my loved one, and my family, need? What time of day is best for a Home Care aide to visit? Will the Home Care caregiver understand my parent's needs as well as I do?
It is important to hire a Home Care company that employs experienced caregivers who have worked with clients with Parkinson's. You will have peace of mind knowing that you can rely on a home health aide who has experience dealing with your mom or dad's condition.
How do you make the right decision regarding the Home Care company you hire? Here are five important questions to ask your Home Care provider when you're looking for assistance in caring for an elderly parent with Parkinson's Disease:
1. Do You Have Experience Helping Clients with Parkinson's Disease?
A caregiver with experience in looking after an elderly person with Parkinson's Disease will have a good understanding of what to expect regarding what your mom or dad can, and can't, do. They will also understand the progressive nature of the illness, and know that just because you have set out a particular routine or task list that works now, that this might have to be changed or adapted over time.
A caregiver with Parkinson's experience will also be aware of the warning signs that your parent's condition is changing, and will be better able to flag these changes as they happen, and help put future care plans in place.
2. How Much Time Can You Devote to My Loved One's Care?
A good, reliable Home Care provider will be able to offer your parent as much, or as little, time as he or she needs. Before you get to the interview process, develop a list of the daily activities your mom or dad needs help with. Consider specific tasks and times of day that might require the most assistance, including - getting dressed in the morning, preparing meals throughout the day, helping with transportation to doctor appointments.
A good Home Care company will be able to develop a specialized program for your loved one's specific disease stage. A comprehensive assessment will help determine the appropriate level of care needed.
3. What Techniques Have Worked with Other People with Parkinson's?
It is likely that your parent's Parkinson's is the first time you've ever had to deal with the disease. A Home Healthcare aide who has worked with a number of people with the illness will bring with them a wealth of knowledge regarding how to help with daily tasks. Ask them what has worked to make living at home easier, safer and more comfortable for previous clients, as well as:
Do they have any tips for helping your mom or dad when they 'freeze' - a very common mobility issue for people with Parkinson's?

Are there suggested daily activities that will help your mom or dad with muscle ache or joint soreness?

How have they helped previous Parkinson's clients who could no longer communicate well?

Do they have any tips on

making the home a safer place

for people with Parkinson's?
Hearing how your caregiver has dealt with these issues before will give you a good idea of whether they are the right match for your parent.
4. How Will a Home Care Aide Work with My Family?
If this is your first time letting somebody into your parent's home to help you as the family caregiver, it's natural that you might feel anxious about handing over the reins, even if you need respite. Your Home Care aide will understand that you will need to work together to manage your mom or dad's health issues, and it's important that you feel you can work as a unit. Be sure to develop a clear communication strategy with your Home Health Aide. Ensure that they are able and willing to adapt to your family's way of life.
5. Is Home Care Flexible Enough to Meet My Family's Changing Needs?
Your new Home Care aide is there to help your parent live safely and comfortably in their own home, and give you reassurance at the times when you can't be there.
Your Home Care company's agreement should allow modifications, changes and updates. Parkinson's is a complex condition, and even with your knowledge of your mom or dad's specific case, and your private caregiver's experience, it's likely that you will need to adapt. Your Home Care provider should reassure you that you are as involved in your parent's care as you have always been, and should offer the flexibility to change the level of assistance, if required.
Finding the right Home Care assistance for your parent is one that is going to improve quality of life for your mom or dad, and for you. Be confident in your decision-making, and your mom or dad will benefit from your care and that of the newfound help you will receive from a great Home Care provider.
Find out how we can provide the Home Care assistance you need for your loved one with Parkinson's by contacting our compassionate and experienced team.