Long life spans are no longer the exception to the rule, but the rule itself. According to a University of Southern California study, Americans are living longer, but are not necessarily in good health; there has been a dramatic rise in the number of people living with illness, as well as mobility and cognitive issues. This presents a financial challenge to seniors and the family caregivers who support them.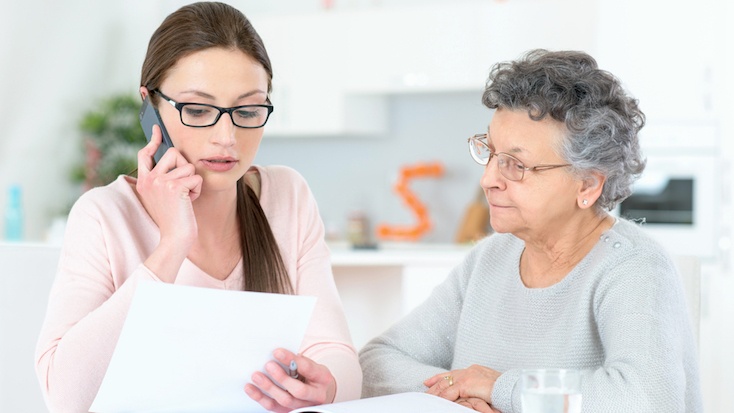 If a senior loved one is no longer able to live safely and comfortably at home, alone, some level of support will be required to ensure they can continue to enjoy a good quality of life. For many, the preferred, and most cost-effective, option is to hire a compassionate and experienced Home Care company. With this decision, however, comes the necessary burden of figuring out whether a parent has enough money to continue living at home with the support of Home Care.
In an in-depth look at the challenges of longer life spans, Forbes Magazine considered the financial consequences of seniors living longer, but with increasingly debilitating conditions such as dementia, including Alzheimer's, Parkinson's, or simply the mobility issues brought on by old age.
Having your mom or dad move into your home can help save on Home Care costs, but providing full-time care of a loved one can lead to caregiver stress and compassion fatigue - which can have a negative effect on the family caregiver. Savings, state programs for lower income seniors, and special funds for in-home care services for elders are among the many ways your family can organize financing the support you, and your loved one, needs.
In order to understand your loved one's financial position, it's best to solicit the advice of an elder care financial or legal expert. Other resources include:
When considering the ability to pay for Home Care, it is important to remember that in some cases, the move from your loved one's independence to the need for assistance is often gradual. Your mom or dad may first require periodic help, then weekly care, before finally requiring daily or ongoing support.
Understanding the Costs of Home Care
One of the first things you might ask yourself as you determine if a parent has enough money to continue living at home with Home Care is: "How much does it cost?" Unfortunately, there is no "one size fits all" answer.
As the 2016 Genworth Cost of Care Study outlines, this can depend upon where you live, what sort of support is needed, and the amount of time you will have a Home Care Aide on the premises each day. As an example, Home Care for seniors, in the Boston area, or in other urban areas, can cost more than in rural areas in the Midwest.
You must then consider the level and type of Home Care your parent needs. Do they require personal care that can include bathing or dressing? Or do they require companionship, or assistance with light housekeeping, meal preparation, or transportation and errands? Organizing a needs assessment with a reputable Home Care company will help outline exactly what level of care is recommended, which, in turn, will help determine the total costs.
Ways to Pay for Home Care Support
Many seniors will have accrued savings over the course of their lives that they will use to pay for Home Care assistance as they get older, and if they are still earning an income, private Home Care may be tax deductible. However, depending on the length and level of care, further resources may be needed. Among the most common ways that clients who wish to remain in their homes fund Home Care include:
You and other family members paying - It is not at all unusual for some families to draft agreements through which adult children pay for their parents' Home Care, and are reimbursed from the parental estate (if there is any), later.

Bridge loans

, as Elder Life Financial points out, might also work





Annuities - These are funds that your parents may have set aside as a form of retirement savings, which can be used to pay for Home Care support





Reverse mortgages - These were created specifically for seniors who wish to remain in their homes and use the equity value to provide funding essential for Home Care




Long term care insurance

- There are policies designed specifically for Home Care support, but can be quite expensive





Life insurance - Many insurers allow you to sell policies back to the originating company for roughly 50-75% of the face value, providing finances to pay for Home Care





Veterans benefits - Parents with a military service record may be able to receive financial assistance via a Veterans Pension




Medicaid

- If your parent(s) are in the low-income bracket, and without other financial resources, this may pay for some Home Care.

MassHealth

outlines the cases whereby this is possible
If Home Care is the preferred option for your elderly parent and your family, and if you trying to determine if it is affordable, Ezra Home Care can help. Simply call for more information or schedule a no-charge assessment with our Client Support Supervisor.