Being at the receiving end of increasingly bad behavior from an elderly parent with cognitive or mental health issues can be very difficult; you can feel like you are all alone as you attempt to manage this upsetting situation. Learning some coping skills will help you deal with the changes in personality that a decline in mental health can bring about.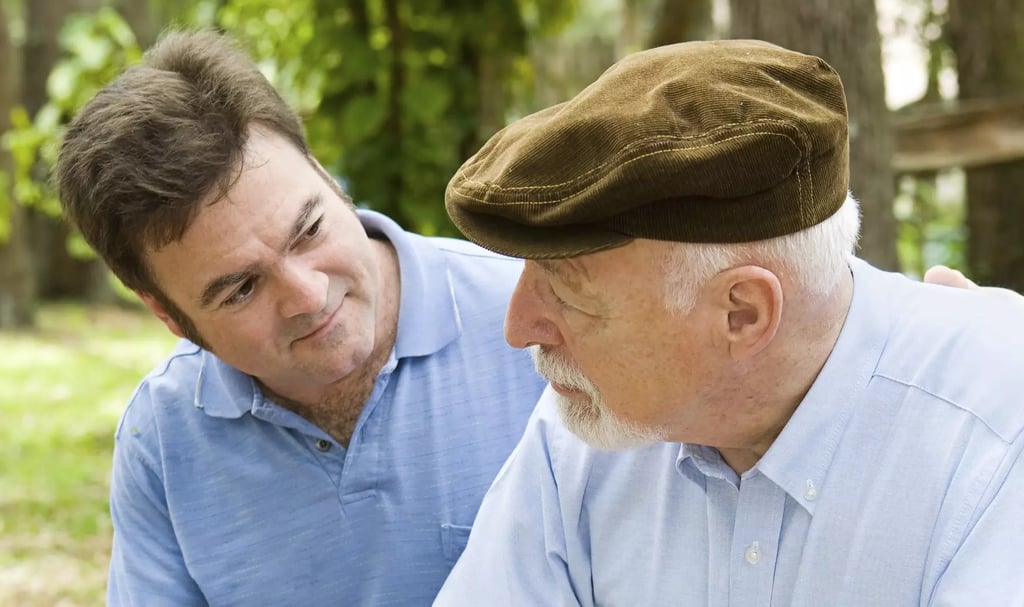 Many age-related illnesses can trigger changes in personality and behavior. These changes can be especially difficult to watch if the person in question is your mom or dad. If you're also in the position of having to care for your parent, the situation can be extremely distressing and difficult to cope with.
The sad reality is that many adult children who care for an elderly parent suffering from a cognitive issue such as dementia, including Alzheimer's, or a worsening mental health disorder or psychiatric problem, are often on the receiving end of verbal, or physical, abuse. This may come in the form of shouting, name-calling, stubbornness, or a parent physically lashing out at those nearest to them.
This behavior is often caused by the complexities of aging and its associated illnesses. For example, frustration about the loss of independence and good health, living with chronic pain, or the fear that can accompany sudden increases in confusion.
New patterns of difficult or "bad" behavior can manifest themselves in a number of ways - from physical abuse to being stubborn about issues such as giving up the car keys when it is no longer safe to drive.
It might be that your parent is refusing to shower or maintain personal hygiene - this is surprisingly common among those who feel like they have lost control of other areas of their lives - or it could be that they continually say inappropriate things or make rude remarks in public, or use profanities to the extreme.
Other behavioral issues that crop up among the elderly, especially those suffering from dementia, including Alzheimer's, can include hallucinations, paranoia, and developing obsessive behaviors. While knowing the cause of some of these behaviors can make it easier to understand why your mom or dad is causing you distress, it doesn't make it easier to live with.
Tactics to help deal with your parent's difficult behavior
Get to the bottom of the bad behavior
Sometimes the behavioral issues are extreme versions of personality traits your parent always had - irritability turned into rage, stubbornness that has become obsessive, etc, - but if a new behavior crops up suddenly and is very out of character, this is a red flag that something in your parent's health conditions may have changed.
For example, if your mom or dad suddenly becomes more fearful or angry, and has not behaved like that before, don't be tempted to sweep their concerns under the carpet.
Distract your parent to divert attention
When a behavior pattern starts to worsen and you're beginning to think "here we go again", have some distraction techniques in your arsenal to try and change the mood. Ignore bad language, nastiness or insults, and try to change the focus of the conversation by talking about a favorite topic, such as reminiscing about a particularly happy time in your parent's life.
Get respite
When adults are caring for their parents, they often forget to care for themselves, and this can lead to what is known as compassion fatigue. Don't forget to take time away from the person you are caring for. No one can take the pressure of caring without needing some respite, so you may want to relieve the pressure by hiring a Home Care company to help with respite care.
Give your parent back some power
If you come to realize that loss of power is the underlying cause of your parent's distressing outbursts, try to give some of it back. Consider how you would feel if someone came in and started making all of your life decisions for you, from what you should eat to how long you should be able to live independently.
Evaluate your own behaviour, and think about how you can make sure your good intentions are seen as such. Also, decide if there are any instances when you can let your mom or dad play more of a part in the decision-making process when it comes to how they live.
Know when to get out
Your mom or dad is likely to take much of their frustration, anger and sadness out on you, because they feel safe in doing so. Aging can be lonely, sometimes undignified, and often elderly people will be dealing with grief and depression, as well as other health problems; their need to vent their feelings can easily get funnelled into lashing out at those they feel closest to.
Know that they do not mean to hurt you (even if they end up saying and doing very hurtful things), but also realize that it could be time for a professional to step in and take over the role of caregiver at home.
When things get too much, or ideally before that happens, explore the benefits of having a Home Care aide come to your parent's home and do all the jobs your parent doesn't want to acquiesce to for you - bathing, dressing, taking medication, exercising, etc.
More than likely, your parent won't be as badly behaved for a caregiver who is not their own son or daughter, and often in the case of companion care, a new and rewarding relationship can be formed.
You will also get to enjoy more of your relationship with your parent when your current dynamic is changed and includes less friction. Hiring a Home Care company to look after the daily tasks that need to be done for your elderly parent means that you can stop being the person they see as taking control of their lives or taking away their independence, and start being their loving son or daughter again.
Find out how Ezra Home Care can provide the safe and compassionate care your parent needs by calling our expert team.