In the long term, hip replacement surgery almost always improves mobility and quality of life. However, in the weeks following surgery, keeping to a physical therapy schedule, managing medication, and struggling with a lack of mobility, will mean your dad is going to need some extra help at home.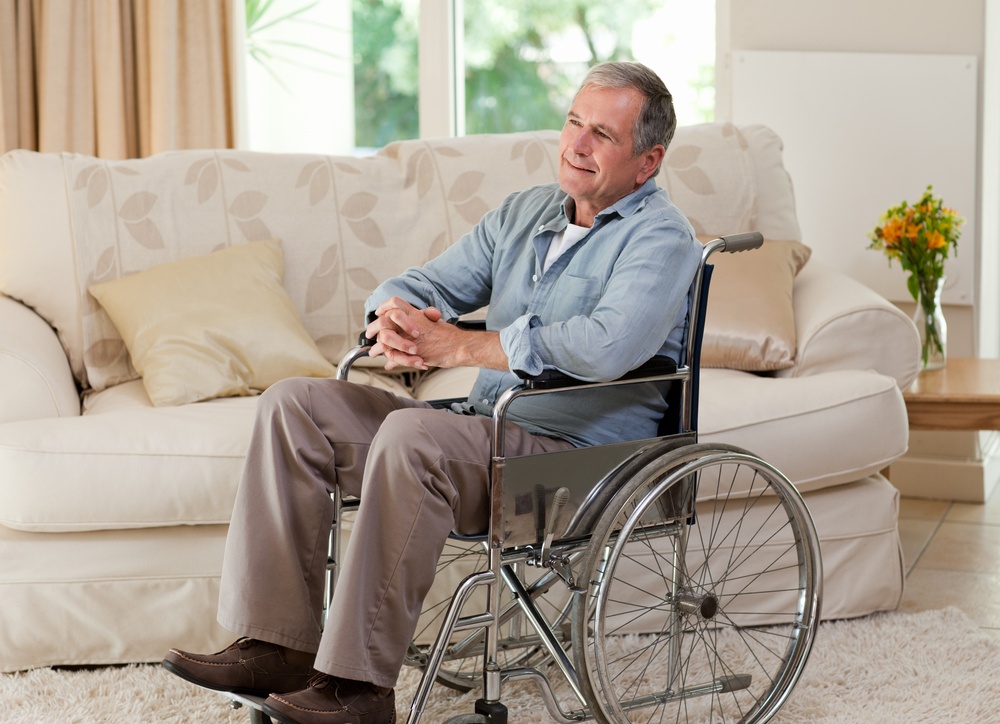 Preparing for your dad's return home from the hospital after hip surgery will take a little organizing, and it's a good idea to have your plan in place in advance of his discharge date. His body will need time to regain strength, and during this period he may find it difficult to carry out his daily activities, and even to get around the house. You'll need to think about minor modifications you can make to his home, so that he will be safe from fall dangers, can move as easily as possible from room to room, and can have easy access to everything he needs. You will also need to know who can be at home with him for the first few weeks after surgery.
Your dad's medical team should brief your dad and his family members before being discharged from the hospital. If you're going to be responsible for looking after him in the early days, or for putting his care plan in place with a Home Care provider, make sure you are there for the conversations with his doctor, physical and occupational therapists.
This will enable you to better assess your dad's needs, decide on the level of care required, and find the right Home Care provider, should you choose to hire one.
On an emotional level, some people take very well to having family members or Home Care aides looking after them. Others, however, especially those who consider themselves to be very fit and independent, can feel frustrated by the recovery process, which takes time and patience, so always bear this in mind, and use the guidance of your dad's medical team to assess what you can do to prepare him for a safe transition.
What You Can Do to Help Dad at Home After His Hip Surgery
Your dad will need to go through a healing process post-surgery, and the care he needs at home will include making sure he doesn't overdo things as his body recovers.
Below are some ideas to consider:
Depending on the severity of his mobility issues, your dad may need help with his daily routine. He may struggle to dress himself, look after his personal grooming, and even get in and out of a chair for the first few days. Make a plan to ensure a family member or a Home Care aide will be there to assist with these necessities.





Your dad's physical therapist will advise that he has assistance using the stairs to help build his strength up, but it is also advisable to have as many facilities as possible on the one floor. Make some rearrangements to dad's home to ensure everything he needs for his daytime routine is on one floor. This may mean putting a bed downstairs so that he can also access the kitchen or lounge, but if that is not possible, you may need to consider having somebody there to provide meals and bring them to him.





Will Dad be able to get to the bathroom? If this involves going up or down stairs, it could cause problems, so if you can't organize for the bathroom to be on the same floor as the rooms he will most often be in - his bedroom, lounge or kitchen - you may need to get a portable commode for the time being.





Your dad may be very independent and might want to do some simple things for himself, such as getting a cup of coffee. But will he able to reach his coffee mug? The most comfortable level for your dad to reach will be between waist and shoulder level, so a quick rearrangement of essential items is a good idea. Place the most used items (reading glasses, coffee pot, etc) on the kitchen counter or on a table to avoid the risk of him over-stretching or falling when trying to reach what he needs.





Your dad shouldn't have to go looking for the things he wants or needs - his laptop, the TV remote, his walking aid, his medication, his phone. Place all of these within easy reach on the same table, so he knows exactly where they are and won't have to exert himself to get them. Also make sure that each device he uses is fully charged, and within reach of a socket.





What fall dangers are there in Dad's home? Having everything in one place will help to reduce the risks of your dad suffering a fall, but he will at times want to move around his home. Look around the house and assess what might be a danger. To start, remove rugs that are likely to slip or have upturned corners and make sure curtains don't present a risk of tripping. Remove or tie down electrical cords, put away low tables, make sure every room is adequately lit, and replace Dad's backless slippers with a pair of comfortable house shoes with good grip.





What fall dangers lie outside the house? Your dad should be able to take small walks, even if it is only to the mailbox. But are there any fall dangers outside the house? Again, assess what you can remove from in front of the house to reduce the risk of such a fall. Is there uneven paving or ornaments? Is the path to the mailbox likely to get slippy? Are there steps? Fix what you can, remove any obvious hazards, and instal a handrail if necessary.





It may seem obvious, but getting enough rest and eating well at normal times are also going to have an impact on your dad's recovery. Stocking up on pre-cooked meals can help before someone comes home from the hospital, especially if it's not possible to have someone there to cook every day.





Your dad will be prescribed pain medication, which you can help him stay on track with. Reminding him to take his medication on time will ensure your dad doesn't try to power through any unnecessary pain, or lose sleep due to discomfort.
Even when the initial recovery period ends, it's likely that your dad will require further support with regular meals and assistance with household tasks. This can cause a problem for family members who have taken time off work to act as a caregiver, but can't afford to continue to do so. In such circumstances, hiring a Home Care company can be of great benefit to both your dad, and yourself, too.
A Home Care Company Can Lend a Helping Hand
A Home Care aide can come to your dad's home on a temporary basis, and help with all the day-to-day activities he is unable to take care of himself while he is recovering, including:
Meal preparation

Assistance with dressing and bathing

Light housekeeping

Medication management
Most importantly, they can be there to assist your dad in moving around his home, and can make sure he is comfortable, providing a safe transition from the hospital to the comfort of his own home.
As your dad regains his strength, the level of care needed may change. A tailored and adjustable Home Care plan means that, while the need in the early days could be for several hours of care a day, after a few weeks you can change the schedule to suit your dad's needs while his mobility gets stronger.
To find out how Ezra Home Care can provide the assistance your parent needs when recovering from hip surgery or tackling mobility issues, contact our experienced team.