One in three seniors aged 65 and over suffer a fall every single year, according to a report by the Centers for Disease Control and Prevention. The prospect of an elderly parent suffering such an event can be terrifying, especially if Mom, or Dad, lives alone and has mobility issues. To reduce potential fall risks, you need to consider what fall dangers are hiding in your parent's home (and what can you do to eliminate them)?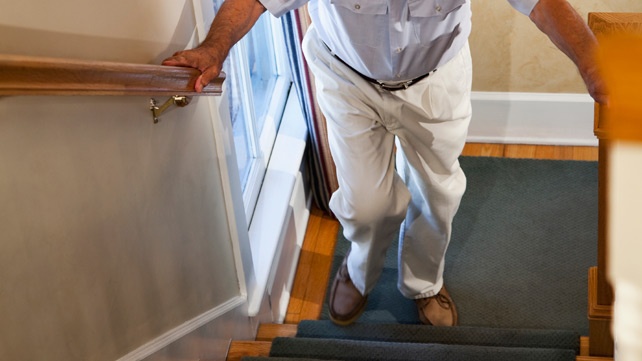 For a toddler, falling over is a part of daily life, and often a small rub or quick kiss from Mom or Dad can make everything better. As we get older, the impact of a fall becomes more serious. But, by the time a person reaches the age of 65, a fall can represent a serious threat with dire consequences.
Unfortunately, at this age, and over, any number of health issues can arise, making the prospect of falling even riskier. The implications of mobility issues arising from a stroke, connected to Parkinson's or Multiple Sclerosis - or even cognitive issues resulting from dementia, including Alzheimer's, can leave an older person even more vulnerable to the possibility of tripping or falling. Often, your parent's own home can be the most hazardous place of all.
Safeguarding your parent's home against the most common, albeit sometimes overlooked, fall hazards, can mean protecting them against the worst possible scenario.
Rugs
It might be your mom's most prized possession, but that decorative rug has got to go. Loose rugs that can slide, or carpets with curled edges, pose a serious fall risk and contribute to a number of falls in the home. Over-polished wooden floors that become slippy can also be hazardous. In general, making sure that the surface underfoot is snag free, clear of obstacles and has good grip will make for the safest way to get around your parent's home.
Towel Rails
Towel rails are perfectly normal household items that are totally safe to have in your parent's home. But, in the absence of properly installed grab bars in the bathroom, towel rails and toilet roll holders present themselves as very tempting alternatives. The danger of course is that the towel rail in question buckles under the weight of someone trying to use it for the wrong purpose. Avoid temptation altogether by getting the grab bars put in at the right height beside the toilet and at entry to the bathtub.
Low Tables
Removing unnecessary obstacles in the home of a person with reduced mobility just makes sense. Sometimes, items of furniture have been in your parent's house for so long you barely notice they're there. Take a fresh look and ask yourself if that hall telephone stand is really necessary any more, or if the low coffee table in the living room could be pushed against the wall to clear a direct path from the kitchen to Dad's favorite armchair. The less negotiating or edging around pieces, the fewer fall risks there will be in your parent's home.
Poor Lighting
Inadequate light teamed with poor vision (or multifocal lenses that make it hard to focus while walking), can add another layer of risk to your mom or dad's daily life. Make sure all the lights in the house are working at all times. Encourage bright, overhead lighting instead of soft lamps or mood lighting as much as possible, but especially in areas such as hallways, bathrooms and kitchens, where accidents commonly occur.
Backless Slippers
Inappropriate footwear, or stockinged feet, can heighten the risk of falling for anyone at any age. Backless slippers in particular are a common cause of falls in the home, as they promote unsafe walking patterns and the wearer is more likely to slip or trip while wearing them. Your elderly mom or dad might express a preference for this type of footwear, since it is so easy to slip on without having to bend down, but this also means it is easy for this footwear to slip off.
Likewise, wearing just socks or old, comfortable slippers with worn soles can be slippy on some surfaces; try a pair of house shoes with a slip-resistant sole and make sure they're the right size. A wide opening and velcro fastening make for comfort and ease too.
Electrical Cords
Be sure that there are no trailing cords running across any likely path your parent will need to take. If lengths of cord must be used, keep them safely tacked to the skirting board and completely wrapped up when they are out of use.
Inadequate Stair Rails
If your parent has reduced mobility, but still needs to get up and down the stairs in their home, make sure there is a sufficiently strong handrail that extends all the way to the top of the stairs. Most staircases will have a banister on one side but installing a handrail on the wall side of the stairwell will make it even more stable for your parent to climb and descend every day. In time, you might consider installing a standing or sitting stairlift, which will safely transition Mom or Dad from top to bottom, and reverse, in comfort.
Safeguarding against these fall risks can help bring you peace of mind, but if their well-being continues to cause concern, it may be time to consider Home Care assistance to provide customized elder care at home.
Find out how we can help provide the Home Care your parent needs by contacting our friendly and experienced team.