When someone has a stroke, it can be a huge shock, not only to the person in question, but also their close family members. By their very nature, strokes are sudden, but can have many long-term implications. By the time your parent has been given his or her diagnosis and you are absorbing the impact of their stroke, you may begin to wonder what questions you should be asking in order to prepare for the next steps in their recovery.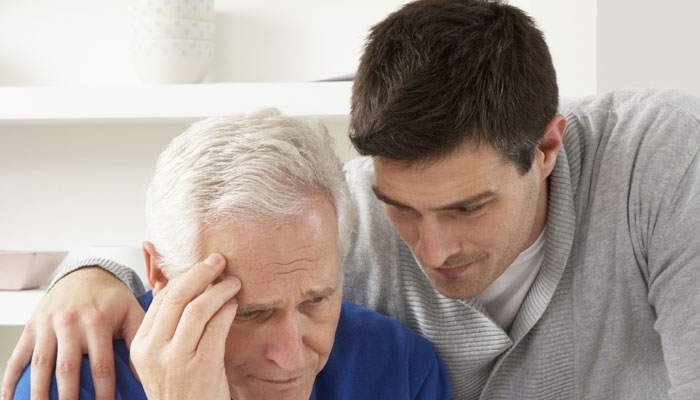 You will obviously want to be there as much as possible to support your dad while he deals with the physical and psychological effects of his stroke after he returns from the hospital. Here's a checklist of important questions to ask your dad's medical team:
1. How Will Dad's Stroke Affect his Mobility?
Finding out how your dad's day to day life will differ will depend on how his mobility is affected, especially if he was very active before his stroke. While it will take two to three months before doctors will know how permanent any of your dad's mobility issues are, his medical team should be able to give you best and worst-case scenarios. This will help you prepare for any severe long-term implications.
Your dad's medical team will start getting him to move as much as possible as soon as 24 hours following his stroke, and this early start is very important for your dad to start rebuilding his strength and health as much as possible.
2. What Other Changes Will My Dad Experience?
Stroke may cause depression, confusion and memory problems for your dad. He might have trouble remembering people's names or finishing sentences, especially in the early days, and this might be very shocking and upsetting for you to see; this is simply a part of the recovery process. If the left side of your dad's brain was damaged, he may have issues with speech, language and other forms of communication.
Your dad will probably, understandably, also have some emotional trauma as he comes to terms with the shock of what has happened, and the loss of some of the abilities that he had before his stroke. Be patient and understanding.
3. What is the Treatment Plan for Dad's Recovery?
The medical team caring for your dad will be keen to get his recovery started as soon as possible, and his rehabilitation could involve a combination of medication, physical therapy to improve mobility, and speech therapy to improve possible slurred speech. If your dad required surgery following his stroke (to remove plaque in his arteries, which may have caused the stroke to occur), he may have additional needs as he recuperates.
Treatment will continue as your dad leaves the hospital, so it is important to know what he, and you, need to do to stick to the recovery plan at home. He may be instructed to do some light exercise, and as the family caregiver you will need to be present to ensure your dad's safety.
You will also need to plan for further appointments, when you will need to transport your dad to the hospital.
4. What Can We Do to Reduce the Possibility of Dad Having Another Stroke?
Preventative measures can be taken to reduce the chances of your dad experiencing another stroke; you will be able to support him in making sure the right measures and that he follows all advice from his medical team. Following a healthy, low fat diet, and light exercise, are among the first steps. Also take time to talk to your dad's doctors about the signs and symptoms of an impending stroke, so that you can be aware of any warning signs.
5. What Level of Care at Home Will My Dad Need When He Leaves the Hospital?
Once you have an understanding of the level of mobility and cognitive changes your dad is experiencing, you will have a better idea of the level of care he will need in order to return home safely. It's unlikely your dad is going to be able to fully care for himself during his recovery, so making arrangements for his recovery at home is going to be necessary.
As well as making sure that your dad keeps on track with his medication plan, and is getting regular meals, you might have to assist him with activities such as dressing, bathing and other simple daily tasks. You might also have to make some adjustments to his home in order to make it safer and more accessible for him, including installing grab bars in the bathroom and on stairs, eliminating fall risks such as area rugs and low tables, and making clear pathways so he can move easily around the home.
Assistance from a Home Healthcare Aide can be a good option for those who are not in a position to give the time and level of care required by an elderly parent following a stroke. Among the many benefits of hiring a Home Care company is the fact that this can be a temporary measure that can change over time to provide not just tailored Home Care, but also peace of mind for both the stroke patient and their loved ones.
Dealing with the impact of stroke can be a challenging and frightening time for you all, but by asking the right questions, arming yourself with as much knowledge as you can, and finding the right Home Care support, you can be sure that he makes the best recovery possible.
Find out how Ezra Home Care can provide the experienced and compassionate care your parent needs now by speaking with a dedicated member of our team.