If a loved one is diagnosed with ALS, their life, and the lives of their family members, will change dramatically, and often quite suddenly. Here, we outline what you need to know about the disease, and how Home Care can provide the support you and your loved one need to maintain their safety, dignity, and quality of life, for as long as possible.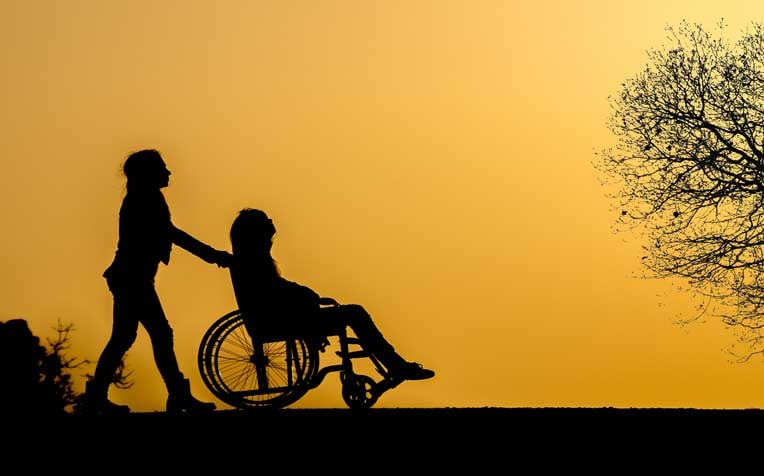 What is ALS?
As outlined by the ALS Association, amyotrophic lateral sclerosis (ALS), is a neurodegenerative disease that affects nerve cells in the brain and the spinal cord. Also known as motor neuron disease, or Lou Gehrig's disease, it is a progressive disease and in most cases (upwards of 90% of diagnoses), the onset is swift, and devastating. This suddenness can make the diagnosis in a loved one hard to accept, as they may have been very healthy up to this point.
What Can I Expect?
Many people are aware of the long-term, worsening effects of ALS, due to high-profile sufferers such as baseball legend Lou Gehrig, after whom it was commonly named, and more recently, world-renowned scientist Stephen Hawking. The early symptoms that signal the disease include weakness or stiffness of the muscles in the limbs and torso, or a change in vocal pitch. As the disease worsens, people can experience some, or all, of the following symptoms:
Progressive muscle weakness

Paralysis

Loss of speech

Difficulty breathing (leading to the need for a ventilator)
ALS is, unfortunately, a life-limiting disease. The average life expectancy following diagnosis is three years, although some people live in excess of ten years after learning they have ALS. There is one FDA-approved drug on the market which can slow down the onset of symptoms, but there is no cure.
Considering the effects of ALS, and the fast rate at which it progresses, it is important that you consider the near-future, and how you can help your loved one with the disease have a good quality of life for as long as possible. The impact that severely reduced mobility and function is going to have will be huge, not just for the patient, but for their family members, as well, which is why Home Care can be of great assistance.
Home Care: Consistent Support in a Time of Change
A Home Care Aide can assist you and your loved one through these times of difficult changes, while enabling the ALS patient to continue to live in their own home, with their own routine, and with as much normalcy as possible.
For many families facing an ALS diagnosis, hiring a Home Care company is an inevitability at some point during the illness, so it's important to look for the right support options, as early as possible.
You may have decided that you or another close family member would like to take on the role of family caregiver, but assistance will almost certainly be needed as the disease progresses. By the time your loved one has difficulty dressing, eating, moving from place to place and communicating, it is best to have support in place. An experienced Home Care company will be able to assess your loved one's needs in order to provide a qualified caregiver to help provide the much-needed respite for you and your family.
A Home Care Aide will be able to take on many of the tasks that may be difficult for family members to do on their own:
Keeping your loved one connected with family and friends by facilitating mobility outside of the home

Providing transportation to social, sporting or cultural events to maintain quality of life and offer a break from the medically-based routine

Providing companion care when family members are unable to be present due to work or other commitments

Providing respite for family caregivers

Assistance with bathing and other personal hygiene tasks

Advising on home adaptations, as and when they become necessary, to

reduce fall risks

and help with mobility within the house

Meal preparation

Medication reminders
Making the decision to hire a Home Care company means extending your loved one's independence and quality of life for as long as possible. All of the Home Care Aides at Ezra Home Care are compassionate and experienced professionals who hold your family member's dignity in the highest regard.
To find out more about how Ezra Home Care can help when a loved one is diagnosed with ALS, please call and speak with one of our dedicated staff: