Having a conversation with your mom or dad about Home Care can be hard for them, and uncomfortable for you. If you're meeting resistance from a parent who can no longer live safely alone, here are some methods you can employ to convince them that perhaps it's time consider having a Home Care aide.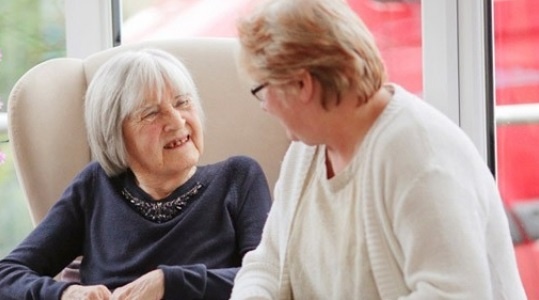 Most older people want to continue living in their own home as they age, and who can blame them? None of us want to have to leave our home out of necessity, whatever our age. But if it's no longer safe for your parent to live at home alone due to cognitive or mobility issues, and they are completely against moving into an assisted living facility, there are ways you can help them continue to have the lifestyle they want, while being cared for at the same time. The solution is Home Care.
Introducing the Idea of Home Care
In order to keep Dad living independently (and safe) at home, start the conversation about introducing Home Care - before a crisis occurs. Including your parent in these discussions will help them feel in control of their destiny. Just remember that even though YOU see the many benefits of Home Care, it might take your parent a lot longer to realize that the pros outweigh the cons.
It's important to let your mom or dad remain the decision-maker in the process. You will probably have to do the bulk of the research regarding the right Home Care company, but offer them choices, equip them with information, and let them decide their own future.
Emphasizing the Benefits of Home Care
You should emphasize how Home Care can provide the same quality of care as an assisted living facility, but with more flexibility to suit your parent's specific needs. Home care is available for anything from a few hours per week right up to 24*7 care, so it is a perfect solution for someone who needs a little extra help with daily activities, especially for those people who require full-time assistance due to conditions such as Parkinson's, Multiple Sclerosis, or dementia.
If your parent seems very resistant to the idea of assistance in their home, be patient and try to understand the reasons why, such as:
Are they proud and feel that Home Care would take away

their independence

?

Are they worried about the costs involved in hiring a Home Health aide?

Are they concerned that they will lose the privacy they enjoy at home?
If you know why they are determined to say no, you will have more luck turning the decision around.
Don't be afraid to ask your mom or dad outright about some of these issues. They might not feel comfortable about vocalizing their concerns, but once it's out in the open, it's likely that you will be able to allay your parent's fears on most, if not all, of their points.
Explaining How Home Care Can Meet Your Family's Needs
To understand what a Home Care aide can do for your parent, and your family, make a list of the issues that have led to these conversations. Detail everything that concerns you, or your mom or dad. For example:
Are visits to the grocery store becoming difficult for your parent?

Do they need more and more help with daily activities such as meal preparation or dressing?

Are you concerned for their safety when mobility issues mean they are

at risk of a fall

?

Are you worried when you can't be there for them all the time because

you have work commitments

?

Are you experiencing family

caregiver stress

and in need of

respite

?
You can use this list to discuss your situation with a Home Care provider; they are experts in helping families develop a plan and a caregiver who will be a good fit for your loved one and your family.
Help With the Home Care Decision
If you find that your parent simply won't entertain the idea of Home Care, and you suspect that it's partly because it is you, the primary family caregiver, who is suggesting it, enlist the help of others who they trust and respect. It could be someone from their faith community, a peer or friend, or, as is most often the case, a family doctor, who can talk frankly with your mom or dad about their well-being in an objective way.
Ultimately, you need to remember that you can't force your parent into a situation, and must accept that you might not get the decision you want. Sometimes, it's best to let the discussion come to a stop altogether, at least for a while, and pick it up again at a later date. If, however, you're seriously worried about your mom or dad's safety, call their doctor immediately.
Use this time to find out as much as you can about the Home Care options available will leave you prepared.
Find out how Ezra Home Care can provide the experienced and compassionate care your parent needs by speaking with a dedicated member of our team.