When you take on the role of family caregiver for a loved one, it can be difficult to admit that you need help. The many challenges faced by those providing an increasing level of care for a loved one can lead to an unhealthy level of stress and "compassion fatigue", but there are ways to recognize the symptoms and causes, and manage the stress you experience, so that you can continue to provide the care your loved one needs at home.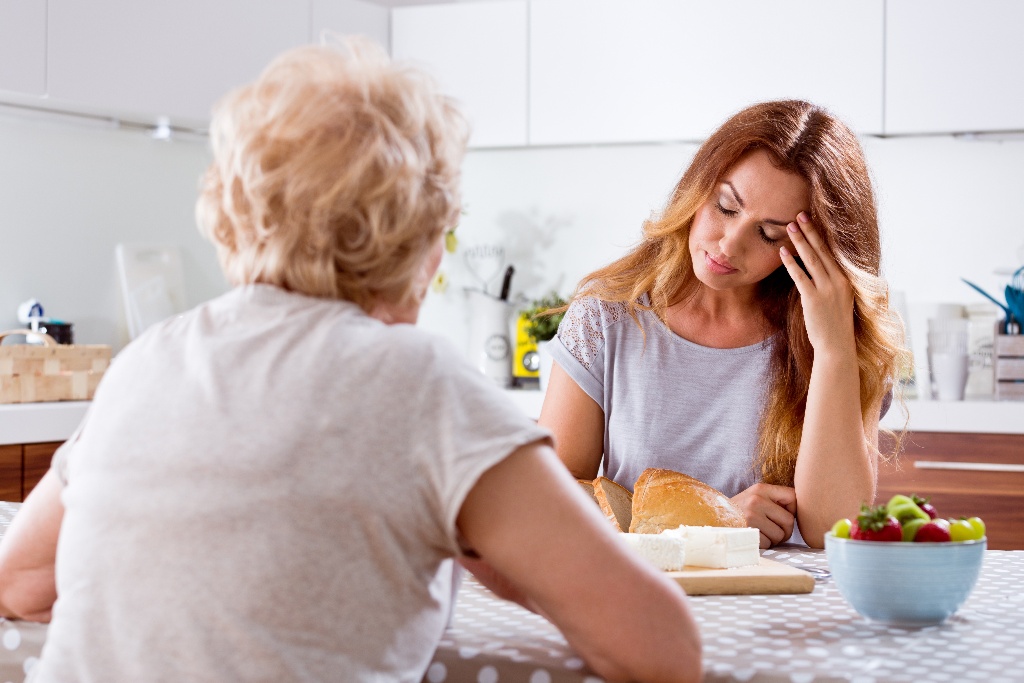 Caregiver stress or burnout has been recognized as a very serious matter. An article by Science Daily outlines the findings of a report by the National Academies of Sciences, Engineering and Medicine, which states that family caregivers experience elevated levels of stress hormones, lower physical well-being, and higher rates of chronic disease.
The report also outlined that the longer family caregivers provide the support for loved ones with mobility or cognitive issues, the more likely they are to suffer from anxiety, depression, social isolation and financial losses.
Many family caregivers who reach a state of physical, emotional and mental exhaustion experience a change in attitude, often resulting in a shift from a positive and caring state of mind to one of disconnection. This change commonly stems from experiencing a sense of helplessness or being overwhelmed by the round-the-clock needs of a senior or loved one with a degenerative disease such as dementia, including Alzheimer's, Parkinson's, or Multiple Sclerosis.
Organizations such as the American Association of Retired Persons (AARP) offer advice on strategies to manage family caregiver stress, but the primary strategy is to first recognize that you are experiencing compassion fatigue.
What Are the Symptoms of Caregiver Stress?
The signs and symptoms of family caregiver stress can include (but are not limited to):
A desire to withdraw from life, such as creating distance between yourself and other family members or friends

Lack of interest in activities you enjoyed before becoming a family caregiver

Overwhelming feelings of helplessness, hopelessness or

grief

Noticeable changes in your sleeping and eating patterns, including severe weight gain or loss

Self-medicating with alcohol or over the counter medications, such as evening formulas or sleep medicines

A growing sense of chronic irritability

A constant sense of deep fatigue (both physical and emotional)

Coming down with illnesses often

Thoughts of self-harm or harming the person for whom you are providing care
If you have experienced one or more of these issues since you began providing care, it could mean that you are suffering from burnout, and will benefit from learning the simple strategies for managing family caregiver stress.
How to Manage Family Caregiver Stress
When you take on the role of family caregiver to a loved one, it can often become the main, or only, priority in your daily life. You may feel that you are abandoning other roles such as being a parent, spouse, friend or mother. This can lead to feelings of guilt and anxiety. Try to carve out time for some of your other roles - whether it is parent, spouse, or friend.





Adjust your expectations - Patients with chronic diseases such as

cancer

or progressive conditions such as

Alzheimer's

may not recover. If your expectations are measured against the reality of the condition, it becomes one of the best strategies for managing family caregiver stress.





Realize that you have limited control over the situation. Whether stress comes from lack of control over financial issues, the course of a loved one's condition, or the ways in which other family members contribute support, it is best to recognize that you can only control your reactions to events, and not the events themselves.




Find a support network - Join

support groups

, talk to friends, and turn to professional social workers, spiritual leaders or therapists, if you need someone to hear what you are thinking, feeling and dealing with.





Take care of yourself - Being too busy to care for yourself is one of the biggest factors in caregiver burnout. One of the best strategies for managing family caregiver stress is booking time for yourself.





Ask for help – This is the most important, and most positive thing you can do when faced with caregiver stress. You should ask for help with anything you simply do not have the skills or capability to handle.

Hiring a Home Care company

can provide you with the expert, compassionate support you, and your loved one needs, ensuring your loved one is safe and comfortable at home, while also offering you

respite

and a much-needed chance to take time off from the role. A Home Care Aide can work with you so that you are still involved in the care of your loved one, and can provide

a tailored care program

and support ranging from hourly services to 24-hour care.
Home Care is a great option when it comes to finding respite from the role of family caregiver, and a reputable Home Care company can find compassionate and experienced Home Care Aides who will place you and your family's needs as the highest priority.
At Ezra Home Care, we strive to improve your loved one's quality of life at home, as well as offering you the peace of mind and relief from stress you need. To find out more about how Ezra Home Care can help if you are overwhelmed by family caregiver stress, please call and speak with our dedicated staff: