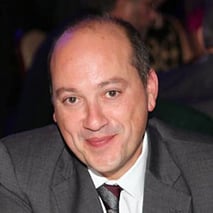 Alexander Schechter is a serial entrepreneur with over 25 years of experience building and managing start-up companies. Alex's passion for business was sparked at a young age while watching his father run a government owned business.
One of Alex's first jobs was working as a healthcare aid in an oncology ward in a hospital. He later continued his medical studies in Russia and Israel. During these experiences, Alex observed how difficult it was for patients to admit they needed help. He also learned the importance of preserving the dignity and independence of each patient.
This experience motivated Alex to develop a home care company that he would be proud to use for members of his own family. In 2008, Alex co-founded Ezra Home Care. As President, he continues to manage the company's day-to-day operations.
Alex's philosophy is simple - always put the client's needs first. As a result, he expects his management team to develop unique solutions that are in the best interest of each client – where care comes first and business is second.
Alex expects reliability, effective communication, empathy, creative thinking, and professionalism, from his office team and field staff. These core values have helped the company garner widespread recognition as an industry leader – most recognized for its compassionate care, unprecedented responsiveness, and unyielding commitment to excellence.
One of the most rewarding aspects of Alex's job is hearing from clients that the company delivered on what was promised, and as a result, helped change their lives.
Prior to starting Ezra Home Care, Alex co-founded several health-related companies including a cosmeceutical company -- Aviva Labs, Inc., which was acquired in 2004.
Currently, Alex is involved in several other start-up businesses including an infant retail product company and, in 2017, he opened a second home care company serving clients in Western Massachusetts, Vintage Home Care, LLC.
Fun Facts: Alex enjoys spending time with family and friends, playing chess, experimenting with food, listening to music, reading, and traveling.