Fish is a fabulous food - There is lots of variety in taste and texture. It is a versatile food which is low in saturated fat. And it is low in calories, too - Fish may just be the perfect healthy diet food. This recipe is a quick and easy choice for a caregiver to prepare for everyone in the home.
Salmon Baked in Foil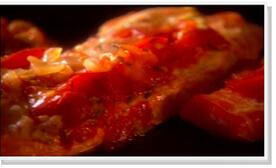 Serves: 4 servings
4 (5 ounces each) salmon fillets
2 teaspoons olive oil plus 2 tablespoons
Salt and freshly ground black pepper
3 tomatoes, chopped, or 1 (14-ounce) can chopped tomatoes, drained
2 chopped shallots
2 tablespoons fresh lemon juice
1 teaspoon dried oregano
1 teaspoon dried thyme
Preheat the oven to 400 degrees F.

Sprinkle salmon with 2 teaspoons olive oil, salt, and pepper.
Stir the tomatoes, shallots, 2 tablespoons of oil, lemon juice, oregano, thyme, salt and pepper in a medium bowl to blend.
Place a salmon fillet, oiled side down, atop a sheet of foil. Wrap the ends of the foil to form a spiral shape.
Spoon the tomato mixture over the salmon.
Fold the sides of the foil over the fish and tomato mixture, covering completely; seal the packets closed.
Place the foil packet on a heavy large baking sheet.
Repeat until all of the salmon have been individually wrapped in foil and placed on the baking sheet.
Bake until the salmon is just cooked through, about 25 minutes.
Using a large metal spatula, transfer the foil packets to plates and serve.
Recipe courtesy Giada De Laurentiis via Food Network
This month's recipe was sent to us by Laura MacDougall, personal chef with Home Plate Advantage.
Chef Laura offers up these variations:
Chopped kalamata olives would be delicious with the tomatoes in this recipe.

Herbs can be changed up very easily for different flavors.

Use dill and a few lemon slices in foil, add slice of sweet onion.

Try an orange slice and a few basil leaves.

Capers or green olives and lemon could be really good too.

The fish may be changed up for a lighter choice- try halibut, haddock, monkfish or tilapia. Swordfish would work too, but may need an extra minute or two of cooking time, depending on thickness. Delicate fishes like flounder are going to cook quicker, but will fall apart much more easily in this application.
Calories: 300
Total Fat: 18 grams
Saturated Fat: 3 grams
Protein: 29 grams
Total carbohydrates: 5 grams
Sugar: 3 grams
Fiber: 1.5 grams
Please remember, Ezra Home Care offers Cooking and Meal Preparations services. All caregivers are trained according to the client's preferences as well as the client's doctor's nutrition recommendations. Learn More.