Ezra Home Care: Giving The Gift of Time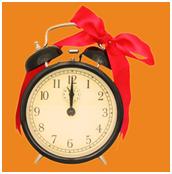 The coming week, between Christmas and New Years, can be a hectic, yet sweet week. Many of us will be spending time with family, catching up with friends, or lounging in new pajamas with a great book by the fireplace.
Before the week begins, and as you think about the gifts for elderly loved ones, please consider giving the gift of time. You might end up having spent hours at the mall shopping for just the right present, when, indeed, that time would, itself be considered a gift if spend with someone you most likely mean so much to.
It's probably a good idea to call ahead to schedule a visit for a nice cup of tea and good conversation. Once you are there, you might fill an hour or two:
• Talk about the 'good old days'.
• Break out the photo albums and make notes to record the history of the people and events saved within their pages.
• Start a jigsaw puzzle.
• Cook a favorite recipe together.
• Take out a deck of cards or a checkerboard– you will be amazed at how much easier it will be to get the chatter flowing.
• Set up a Skype session with other family members.
Some older folks might enjoy getting out of their own environment for a little while for a change of scenery. Lunch at a local diner might be nice. Maybe take in a movie, or go to a local art gallery.
This time of year, we expend a great deal of energy on the material gifts we wrap up to give. The human relationships that we cultivate can be so much more valuable than these. The holidays can be a wonderful opportunity to savor our family and our friends and to hold our time with them dear. Care and Caregiving, indeed, are gifts we both give and we receive.
Whether you are a family caregiver who would like some help, or you need constant care in the comfort of wherever you call home, Ezra Home Care is there for you.
Contact Ezra Home Care at 617-527-9000 or info@ezrahomecare.com