As the New Year begins, you may find yourself facing fresh challenges when it comes to caring for your elderly parent. Here, we look at some of the options available to you, now that your mom or dad can no longer manage at home, alone.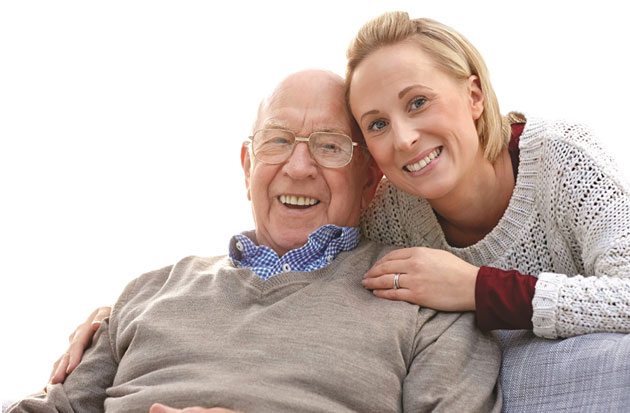 The decision to find assistance for your mom or dad can suddenly become a priority for many reasons. Their needs may have steadily grown, to the point where you can no longer provide the care needed to keep them safe, at home. Perhaps your decision has been prompted by a health crisis, or a fall, or simply because spending time with your loved one over the holidays has made you realize their health is declining, making it difficult to cope alone. Whatever the cause, the new year is a good time to reassess your senior parent's needs, and decide your next steps.
It's possible that you've been considering your options for some time when it comes to your mom or dad's care. Perhaps your parent's mobility is severely reduced now that they are older, or have a condition such as Parkinson's or Multiple Sclerosis. Perhaps they are having memory or cognitive issues such as dementia, including Alzheimer's, that is making it impossible for them to live safely, alone. So what choices are available to you in order to make sure your parent is safe and well cared for?
Below are a few options to consider:
Family Caregivers
You can discuss the idea of one of your family members becoming the full-time caregiver for your parent - inviting Mom to move into their home (or vice versa).
The advantages of this option include:
Your mom or dad may feel more at home, living with familiar family members

If you choose to move in with your parent, they will not have to face the upheaval of moving out of the place they have called home for years
The disadvantages of this option include:
It is often not feasible for a family member to take on the full-time responsibility as family caregiver due to having their own commitments, such as

work

, children, etc

It may not be possible for a family member to move into their parent's home, because they may not have room for another person, or because the living quarters have fall hazards such as stairs, etc

Your mom or dad may be uncomfortable with the role reversal involved in having an adult child care for them
An Assisted Living Community
Moving your mom or dad into an assisted living facility will mean that they are no longer living alone, and will receive a level of care and support.
The advantages include:
Your mom or dad will be provided with structured, around-the-clock assistance with daily activities

Your parent will be able to socialize with other people of a similar age, reducing the risk of isolation

Planned activities will help your mom or dad stay relatively active

Staff will have details of treatments required and can ensure that medication is taken
However:
Assisted living communities can be expensive

Many seniors do not want to leave their home under any circumstances, because it will mean losing their independence

For some seniors, adjusting to life in an assisted living facility is challenging due to the group environment. Seniors might feel like they have less privacy at an assisted living facility than they do in their homes
Hiring a Home Care Company
Hiring a Home Care company may be an attractive solution.
Having an experienced Home Care Aide come to your mom or dad's home, can provide a flexible and comfortable solution for many families whose loved ones can no longer live safely alone, but want to keep their independence.
Whether your mom or dad needs help for a few hours a day, or they need more extensive care - 24*7 - Home Care can provide the support they need, and help them to have a better quality of life than they would have on their own, or in an assisted living facility. It is also great option for those closest to them.
A Home Health Aide can assist with the following tasks:
Personal care such as bathing, dressing, hair washing, etc.

Help with medication reminders

Light housework and meal preparation

Chores such as grocery shopping, picking up prescriptions

Accompaniment to medical appointments

Companionship - helping encourage continued interest in social activities

Providing companionship and preventing loneliness

Providing

respite

for family members suffering from

compassion fatigue
It's important to remember that every person who needs Home care will have a different set of needs. If you're starting the conversation with your parent, remind them that Home Care enables them to remain independent, and can remove some of the burden on family caregivers.
A Home Care Aide will have professional qualifications, training and experience relevant to your parent's needs, and will be matched to your loved one accordingly. For example, some caregivers will have extensive experience with Alzheimer's, Parkinson's Disease, those undergoing cancer treatment, or recovering from a stroke.
It is important to find a reliable, professional and trustworthy Home Care company who can cater to the needs of your family. At Ezra Home Care, all of our Home Health Aides undergo a criminal background investigation (CORI), and take part in regular training and educational programs to ensure they are providing the very best care possible to our clients.
If you're considering Home Care as a viable option for your elderly parent now that they can no longer live safely at home, please call for a free Needs and Safety Assessment.
We will design a tailored care plan that suits your family's needs, and make sure we select a Home Care Aide who can provide excellent, compassionate support, and who your loved one can form a rewarding bond with.
To find out more about how Home Care can help during the holiday season, and throughout the year, please organize a call and speak with one of our dedicated staff: